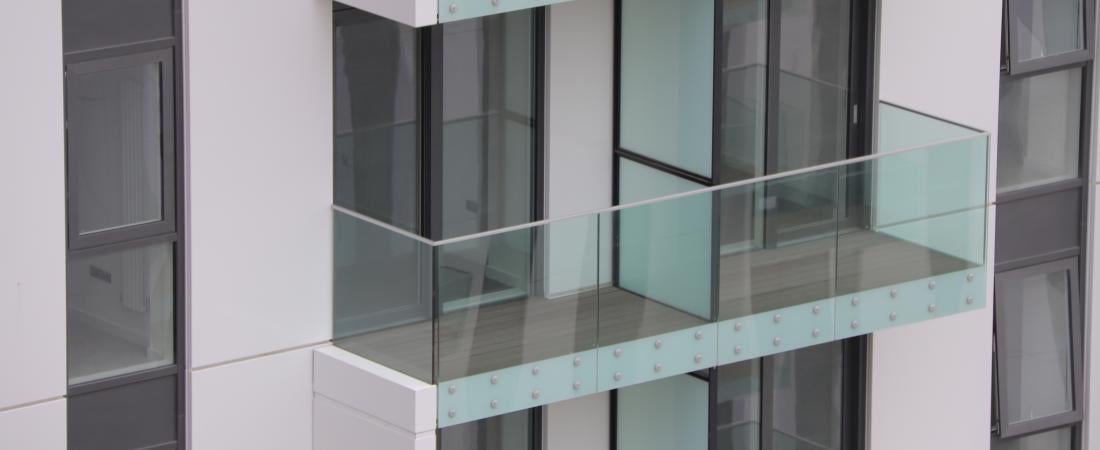 This is a guide to non-combustible balcony decking options. In recent years the number of balcony fires across the UK has increased significantly. One of the main causes for these fires has been carelessly discarded cigarettes that have sparked the fire and resulted in extensive damage to property and possessions. In an attempt to secure buildings and residents from such external fires, the government introduced new fire-safety regulations for external walls. According to these new regulations, external wall systems of all residential buildings over the height of 18 m need to be built with non-combustible materials, including balconies. In this way, fires do not get the chance to spread to the rest of the building via the external walls.
One of the main aspects that needs to be checked to secure your balcony from such an accident is the decking used. Switching to non-combustible decking does not just keep you safe from balcony fires, it also ensures compliance with the latest fire-safety regulations.
What factors should be considered when selecting non-combustible balcony decking?
Keep in mind that the decking needs to be certified to A2-s1,d0 in line with the amended Building Regulations. This ensures that the balcony decking and all the components are made from non-combustible materials. Additionally, selecting a highly durable option is also recommended. Decking made from metals like steel and aluminium is the perfect choice for those looking for a durable non-combustible decking option. Decking made from slip-resistant and fireproof aluminium is gaining popularity in the industry.
Based on the new regulations, Timber Decking, Glass Reinforced Plastic and Polyester Resins are not in compliance as they use wood and plastic that are combustible.
Additionally, before selecting the right decking for your space, request a sample so that you get a better idea of the texture and feel before you make your choice.
Here are some of the top Compliant Balcony Decking Products available in the market today:
The Delta Range by MyDek
This range by MyDek is a fully-certified non-combustible aluminium decking product that is made from sustainable materials and specifically designed for balconies. It comes with a Euroclass A2-s1,d0 fire rating and is simple and easy to install. The decking is coated to Qualicoat Class 2 standards for durability. The product works well both for new build and refurbishment projects and is particularly well suited to metal framed balconies as it can be fixed directly to the steel with completely invisible fixing method. This range is available in six standard colours.
Vista by MyDek
Vista is the original balcony decking range from MyDek and is popular for its sleek appearance, superb quality, outstanding performance and great value. This range is also certified with the Euroclass A2-s1,d0 fire rating and is perfect for balconies. The design is versatile and quick to fit with its hidden clip system, saving time and money. This product is well suited to alrger terrace areas and balconies with a cvoncrete base as it works perfectly with the MyDek subframe support systems. The range is available in six standard colours.
Innova
Another great balcony decking option from MyDek is the Innova range of aluminium decking, which is a low-cost choice for a budget-conscious project. A lighter weight but equally attractive board profile, this range is also completely non-combustible and achieves Euroclass A2-s1,d0 fire rating. The decking is coated to Qualicoat Class 1 standard for durability and is available in six colours.
Naturo by MyDek
Naturo is a bespoke range of aluminium balcony decking with a premium woodgrain-pattern finish. This range uses a unique process to impregnate real woodgrain patterns into the double coating of the aluminium deck board, giving you the beauty of wood and the benefits of aluminium. The range is non-combustible, fire-rated to Class A2-s1, d0 and slip-resistant. It comes with a 30-year warranty and 60-year design life. This range is available in five colours.