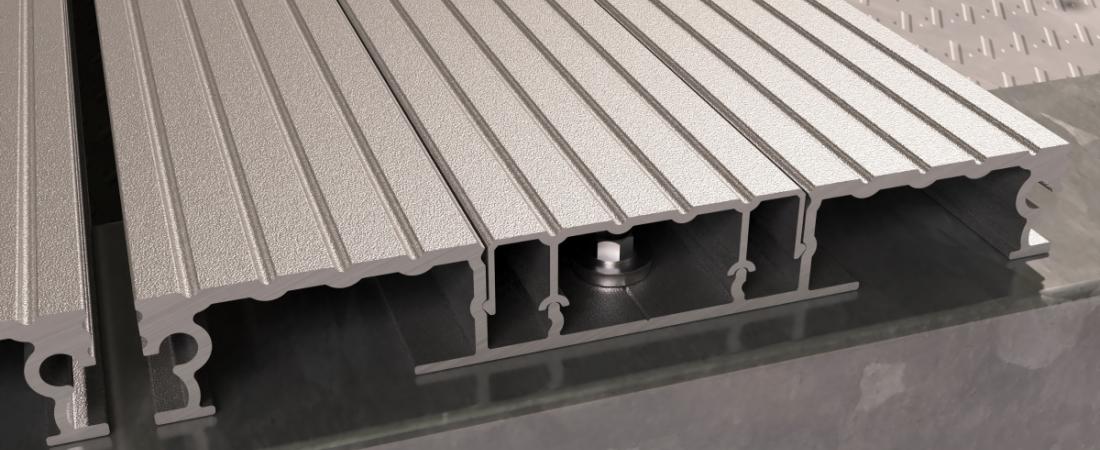 There are a number of non-combustible aluminium decking boards on the market, however the Delta Board is the ultimate choice for all your projects. Whether you are an Architect, Balcony Manufacturer, Installer or Contractor, the Delta Aluminium Decking Board is designed to give you complete peace of mind.
The Delta Boards were developed with the Mydek mantra at the forefront: Safe, Smart Sustainable. Whether you are installing a new, or refurbishing an old balcony, here are some answers to frequently asked questions about the Delta Boards:
1. Why does the Delta board simplify installation on Metal-Framed Balconies?
Delta board enables the installer to fix heavy-duty screws through the base of the board and into the heavy steel frame below.
This eliminates the need for separate fixings, specifically separate clip fixings. Allowing installers to manually adjust the space between the boards to suit the building tolerances. 
2. What is the purpose of the two different depths of boards, i.e. 20 and the 30 millimetres?
The 20 millimetres provide a low profile structure depth. While the 30 millimetres enables you to have a deeper board, which provides more substantial span support thus reducing the overall cost of the balcony
On concrete balconies and terraces, it enables you to use less framework elements such as subframe and therefore reduces the overall cost per square meter per area.
3. How many colours does the board come in? 
It comes in six standard colours with special colours available on request. The standard range of colours has proved to be very versatile and works well with most design pallets.
4. What does cut-to-length mean?
This means that we supply the boards for the projects cut to the exact length you require, to minimise wastage. This means you don't have to purchase excessive amounts of decking beyond the point you actually require.
This also speeds installation, as no additional cutting time is needed on-site. It improves aesthetic appearance as an additional benefit as the boards come fully coated with no explode at cut ends.
5. What tests does the Delta board undergo?
The Mydek Delta board goes through the most rigorous testing in the market to ensure peace of mind to all stakeholders involved. Here are some of the tests that we put the Delta Boards through:
Fire tested to EN13501 – 1 A1:2013 standard and rated to A2-s1, d0.

Slip Tested in 4 direction to achieve PTV rating of 67 dry and 45 wet (HSE target of 36 for "Safe" classification).

Qualicoat Class 2 powder coating standard for outstanding UV stability and coating adhesion

100,000 footfall Accelerated Wear test to SATRA TM391:2016 for outstanding durability

Furniture leg test as per EN ISO 16581:2019

Coating adhesion test – specialist cross-hatch test to ensure ultimate coating adhesion to the deck board

Load tested to in excess of 600kgs point load. Designed for strength and load bearing capability – and tested to prove it!