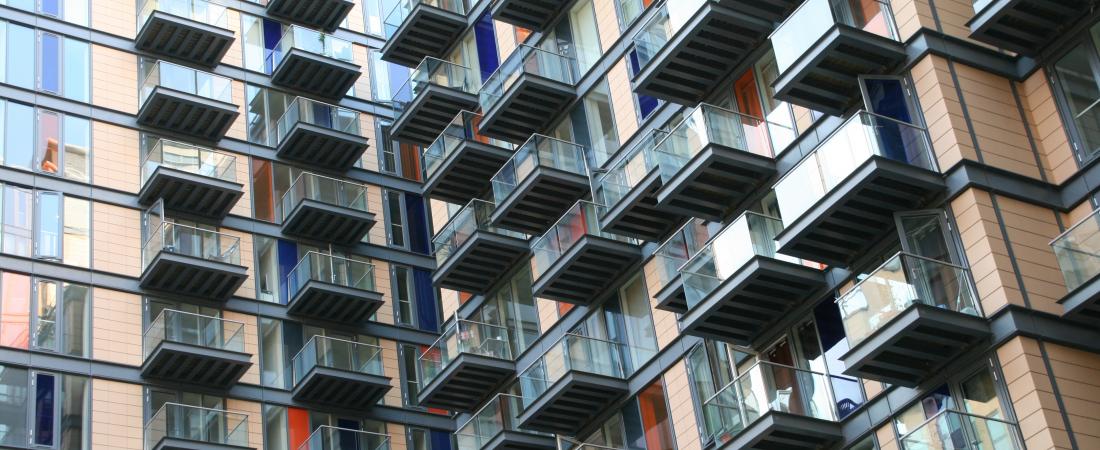 Aluminium Decking is the number one choice for non-combustible and durable decking solutions and makes the perfect balcony decking replacement for Timber or Composite Decking. With the change in regulations banning the use of combustible materials in the external wall systems of buildings, there is a need for cost-effective, non-combustible decking to replace non-compliant decking on terraces and balconies. And at MyDek we have the perfect solution for your terrace and balcony decking replacement needs.
MyDek has a range of beautiful and bespoke non-combustible decking options that are easy to install on any balcony or terrace. Our decking is made from Aluminium, offering a durable and compliant solution for your refurbishment work.
Get in touch with our team at MyDek today to discuss your project and move things forward – call us at 03300 94 94 11 or read on for further information.
Why Choose MyDek for Your Non-Combustible Decking Solution?
Recently the regulations regarding the external wall systems of high-rise buildings were amended to ensure fire safety to every resident in the building. According to these new regulations, external wall systems of buildings are required to be constructed with non-combustible materials in order to stop the spread of fire through the external envelope of the building.
These regulation changes have made the previously used timber and composite decking non-compliant and building owners and leaseholders are looking for the right decking solution for their terraces and balconies.
MyDek offers the decking solution leaseholders and building owners are looking for.
We offer a range of cost-effective and bespoke Aluminium decking solutions, designed specifically for retrofit and replacement purposes. Our range of Aluminium decking is non-combustible, easy to install and perfect for those looking to replace previous timber or composite decking. Our decking solutions offer the most cost-effective and quality solution for those looking to achieve compliance with the latest fire-safety regulations.
Our decking options are highly versatile and can be used for any terrace, balcony or walkway project that needs refurbishment work. All our products come with a fire certification to EN13501 assuring that every product is classified as non-combustible to A2-s1, d0 including validation as a flooring category.
Non-Combustible Decking Products by MyDek
Here is the complete list of our top non-combustible decking products for you to select from:
Naturo™ by MyDek – Wood Effect Aluminium Decking
Naturo is a premium collection aluminium decking from MyDek. Naturo lets you enjoy the beauty of natural timber with all the advantages of aluminium. Using real wood grain patterns, Naturo captures the enduring charm of natural wood and, using a unique process, impregnates it into the durable coating of the aluminium deck board. This collection is available in a range of five colours.
Delta30
The Delta range is the ultimate high-performance MyDek board that simply fixes directly to the balcony frame without any clips required! Delta30 provides an outstanding span of up to 1200mm which means that less substructure supports are required, thus reducing material costs and installation times. The simple clip-in cover conceals all fixings, and enables quick and easy installation to a variety of substrates using standard self-drill fixings. Available in the popular range of six standard colours and coated using QualicoatClass 2 powder, Delta 30 is your ultimate choice for performance in non-combustible decking.
Vista
The original high-performance decking board from MyDek. Solid, uncompromising and with a classic sleek appearance, the Vista board is chosen by customers that want superb quality, great value and outstanding performance. Complete with its simple fixing method for rapid and accurate installation, the special hidden clip system also enables boards to be fixed into position and removed quickly and simply if required.
Innova
Available in a range of standard colours, Innova will provide a compliant solution for your non-combustible decking needs. Complete with its simple fixing method for rapid and accurate installation, the secure clip system enables boards to be fixed rapidly to the MyDek Support Systems. Coated to Qualicoat Class 1 standards, Innova will keep looking great for years.
For further information or to request a sample, get in touch with our team on 03300 94 94 11 or email [email protected]