The latest offering from MyDek is the stunning Luxura® range of non-combustible decking boards. These are created using a unique, high-density, mineral-fibre compound developed by Blazeboard. A special formula is used to create durable, low maintenance and non-combustible boards from a reinforced calcium silicate composite. Luxura® brings the aesthetic of hardwood timber, adding a natural look and feel while delivering outstanding performance.

What Makes Luxura® Special compared with Other Non-Combustible Decking Solutions in the Market?
Luxura® is made with a unique high-density material that can be both drilled and machined like hardwood timber. That said, it is also a lot cleaner and easier to cure compared with stone or porcelain. Luxura® is also highly resistant against scratching, wear and tear and is capable of enduring extreme weather conditions. The natural colouring of the material is the same all the way through the product so even in the event of accidental damage to the top surface there is no external coating layer that will need to be repaired. Light surface damage can even be removed with a medium grit abrasive paper.
The installation process of Luxura® is fast and simple as it uses a non-combustible fixing clip system. It is screwed directly onto the subframe, clamping the boards via a neat groove in the side so that fixings are invisible. If necessary, boards can also be drilled and fixed using stainless steel countersunk screws.
Additionally, the unique material compound that is used to create Luxura® is impregnated with a special invisible sealant. This makes the range completely stain resistant and easy to clean and maintain. It also has outstanding slip resistance properties.
Luxura® feels and sounds as solid to walk on as stone or concrete, and therefore creates a high-quality user experience with a material that will endure for decades to come.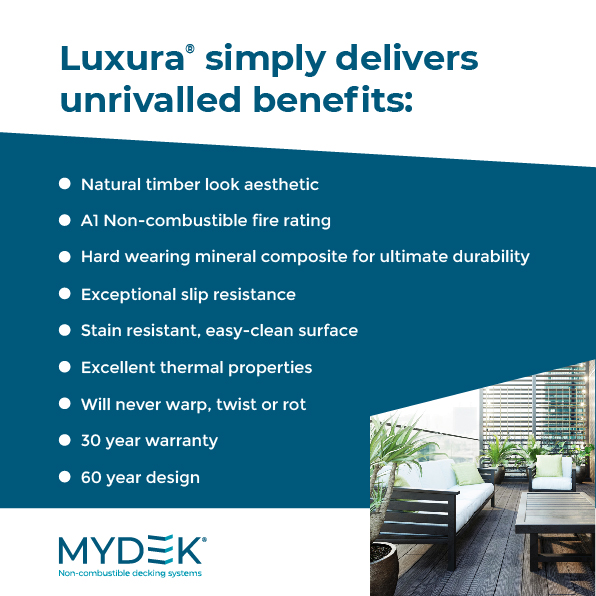 Key Features of Luxura®
Luxura® has achieved A1 Fire rating to EN13501 – 1, which means that it is completely non-combustible and compliant with the latest regulations
Luxura® is made with sustainable raw materials and is a solid, through-colour material, which means that it has no external coating that can get damaged.
Luxura® is is a naturally slip resistant material and has a textured surface impregnated with a specialist sealant. This makes it highly slip resistant with a PTV rating of 60 when dry and 43 when wet.
Luxura® is also highly resistant to staining and algae growth
Luxura® is made using a unique, high-density mineral-based compound giving a solid feel to walk on, ensuring that it will not warp, split or rot and that it does not get hot in the sun
The materials used also ensure that there is no expansion or contraction of the decking due to weather changes
Luxura® is low maintenance as it is stain, scratch and wear resistant
Luxura® is easy to install as it uses either a concealed clip or drill and screw method for assembling
Luxura® boards can be cut easily to fit any required space, using a circular saw or jigsaw
Frequently Asked Questions About Luxura®
What makes Luxura® different from the other decking solutions available at MyDek?
Luxura® is made using a unique, high-density, mineral-fibre compound made from reinforced calcium silicate composite whereas all the other decking solutions by MyDek are made from sustainable and recyclable aluminium decking boards.
Is Luxura® lightweight and durable like the other products by MyDek?
Luxura® is significantly heavier than aluminium and weighs approximately 36kgs/sq m compared with approx. 9kgs/sqm for Innova and 12kgs/sqm for Vista. However, this can be advantageous as it gives a more solid feel when being walked on but also can be beneficial when being installed on top of insulation on terrace areas where additional loading is required to ballast the insulation.
What are the benefits of Luxura® over other aluminium decking solutions available in the market?
Luxura® is designed to replicate the hardwood timber aesthetic and can be both drilled and machined. The product has a natural look and feel and delivers outstanding performance while being compliant with the latest regulations. It feels solid when walked on due to the unique materials used to create the decking boards. Luxura® is also weather resistant and maintains a consistent temperature even in direct sunshine.
What is the warranty for the Luxura® range?
The Luxura® range by MyDek comes with a 30-year warranty.
Where can I get more information or a sample of the product from?
For further information or to request a sample, feel free to get in touch with the team at MyDek at [email protected] or fill out the contact form here.