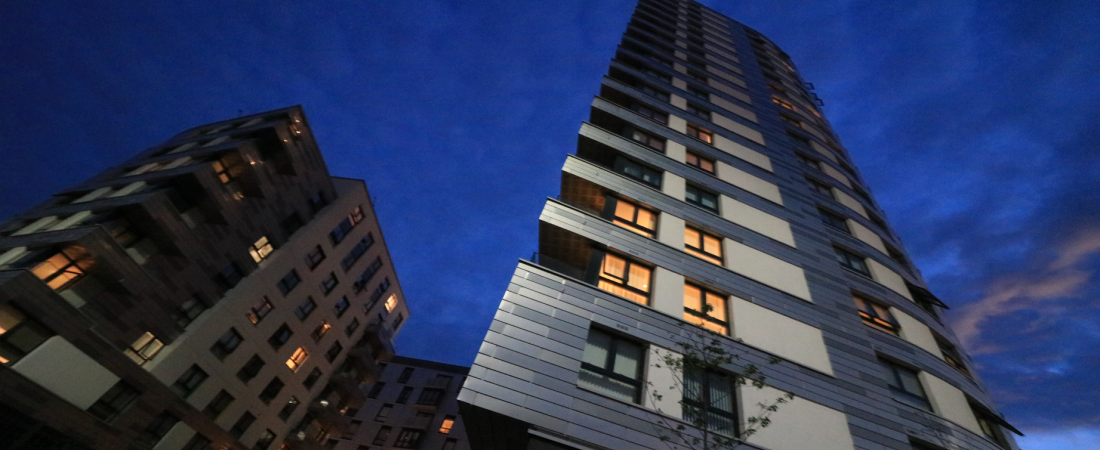 Today, balconies are considered to be an important aspect of modern-day living. Balconies not only add extra space but can act as an important fire escape during a fire outbreak (when constructed using non-combustible materials). However, lately, fires on balconies are happening more often. Additionally, fires in residential buildings are occurring more often, such as the recent blaze at the Cube student accommodation in Bolton. Compliments to the Fire Brigade for their effective response.
Some of the common causes of fire outbreaks include misuse of barbeques and inappropriate disposal of smoking materials. When combustible materials are used within the balcony construction, fires can spread rapidly. Previously, balcony decking was constructed using timber or other combustible composite materials. During fire breakouts, these materials could quickly catch fire and spread rapidly. Consequently, non-combustible materials must be adopted in building design going forward to ensure safety.
Understanding Product Fire Grades
The Euroclass system classifies the materials that are used in construction into seven major categories. These seven classes are determined based on the reaction-to-fire properties of the material. Factors such as non-combustibility, ignitability, calorific value, flame spread and development of smoke droplets are primary characteristics for classification. The classifications are A1, A2, B, C, D, E and F.

Only A-grade materials should be used when specifying decking due to their non-combustible nature.

A1 and A2: no contribution to fire

B: very limited contribution to fire

C: limited contribution to fire

D: acceptable contribution to fire

E: acceptable contribution to fire

F: no performance requirements
The meaning of 's' and 'd' grades for A2 materials are explained below

s1- Little or no smoke

s2- Medium smoke

s3- High smoke

d0 – Nil flaming droplets

d1 – Slow dripping is recorded

d2 – High volume of droplets recorded
Decoding The New Regulation
The government has now introduced a new Building Regulation which prohibits the use of 'combustible cladding' in residential buildings of height 18 meters and above. The Building Regulation which came into force on 21 December 2018, introduced notable changes to the Building Regulation 2010. Launching the total ban on the use of combustible materials (capable of igniting and/or burning) within the external walls of high-rise buildings consisting of one or more homes. Some materials that faced a ban were composite or wooden decking. The ban will apply to all new buildings or buildings that undergo a subsequent change.
Regulation 7 of the Building Regulations 2018
To meet Regulation 7:
(a) Materials should be of a suitable nature and quality in relation to the purpose and condition of use.
(b)The workmansip is such that relevant materials are applied to perform the intended function.
Definition of a "'relevant building"
a "relevant building" means a building with a storey (not including roof-top plant areas or any storey consisting exclusively of plant rooms) at least 18 metres above ground level and which—
contains one or more home;

contains an institution; or

contains a room for residential purposes (excluding any room in a hostel, hotel or boarding house);
Within the Building Regulations, "an institution" is defined as: An institution used for the care, treatment of people (individuals suffering from old age or mental or physical problems) or for accommodation purposes. The definition of the institution also includes hospitals, student sheltered housing, and dormitories in boarding schools.
Definition of "external wall"
The definition of the external wall under the regulations is as follows:
Any area located within the region forming part of a wall

Decoration or any other finish put onto any external surface which forms part of the wall

Doors or windows in the wall

Part (any) of a roof formed at an angle of 70 degrees or more to the horizontal.
The external wall will also include the materials forming the internal linings of the wall within that building. Additionally, it consists of soil vent pipes, ducts, or other pipes that pass through the external wall or are contained within the wall.
Definition of "special attachment"
The ban on combustible materials also applies to materials which are used within "specified attachments" and are fixed to the external wall. This includes:
Balconies attached to the external wall

Equipment used for reducing heat gain

Solar panels fixed to the external wall
The building work must be carried out such that the materials which form the part of a special attachment or external wall, of a relevant building are of European Classification A1 or A2-s1,d0. This implies that the materials used only exhibit limited combustibilty (class A2-s1,d0) or are non-combustible (A1).
Often, non-combustible materials are confused with fire-retardant materials. In reality, fire-retardant materials are manufactured to resist ignition or limit the speed of combustion. On the other hand, non-combustible materials are those that do not burn or contribute to the existing fire breakouts. That is why non-combustible materials should be specified. One such material is aluminium. Aluminium and its alloys, analyzed for fire propagation performances provide class1 surface spread for fire in external walls or balcony fires and is intrinsically Class A1 in its unfinished state.
Exclusions
The Amended Regulations 2018 additionally provided a list of materials excluded from the fire performance criteria. These include:
Cavity trays for use with double-leaf masonry

Certain sections of the roof

Electrical installations

Doors and door frames

Waterproofing and insulation materials

Fire stopping and intumescent materials

Fixings, seals, sealants, gaskets, fixings, and backer rods

Glass and window frames

Thermal break materials
Identifying non-compliant materials when building a new project is a necessity, as the consequences of non-compliance to the regulation are severe. In addition to the Building Regulation 2018, the concerned authorities are all set to bring about a significant change in the Building Technical handbook for domestic and non-domestic buildings; ensuring the safety of the buildings and individuals.